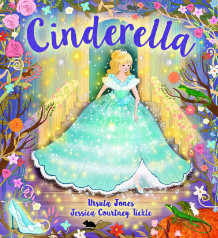 Paperback: 32 pages
Publisher: Orchard (20 Sep 2018)
Language English
ISBN-10: 1408345692
ISBN-13: 978-1408345696
Dimensions: 25.7 x 1.1 x 28.2 cm
Rediscover the magic of Cinderella and enter a world of enchantment and romance with this exquisite picture book retelling. Award-winning author Ursula Jones breathes new life into this enduring and best-loved fairytale with her characteristic blend of warmth, humour and charm. Paired with dazzlingly intricate illustrations, this is a wonderfully evocative, beautiful and contemporary edition of this timeless classic.
This is a modern fairytale with enchanting illustrations by Jessica Courtney-Tickle.